Can we please have a 4x4 keypad
I'm forwarding this from syracusepro for you to see.
Sincerely,
aidancuckoo.
Dear JakeBoss, I couldn't find the link to the product you're trying to add. Could you put the model in a reply below?


Sincerely,
aidancuckoo
might you add the two items below
PLANTOWER PMS 5003
Nova PM SDS011
and thingspeak if possible
Hello Jonboy43! Thanks for your suggestions. I will link the 2 products for others to add.
http://www.plantower.com/en/content/?108.html
Note: I have looked at the website for the Nova PM SDS011 but weirdly it shows a weird thingy in the onebox.
cheers aidan,
will there be some sort of notification when they're added.
whta do you mean by the weird thingy??
regards
jh
Hi JH, there won't be a note when a new component is added. Also by "weird thingy" I mean wrong details. You see, it shows other details that I think aren't part of the page! See in the pictures attached.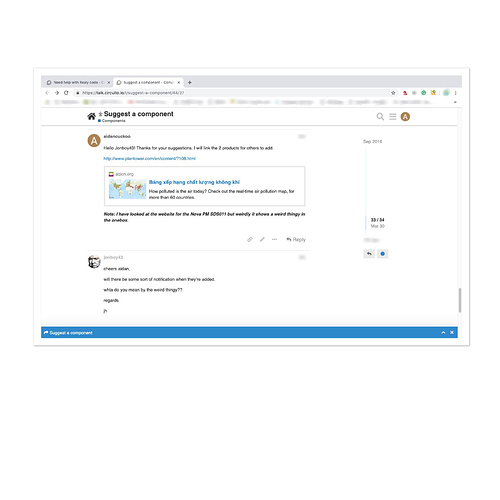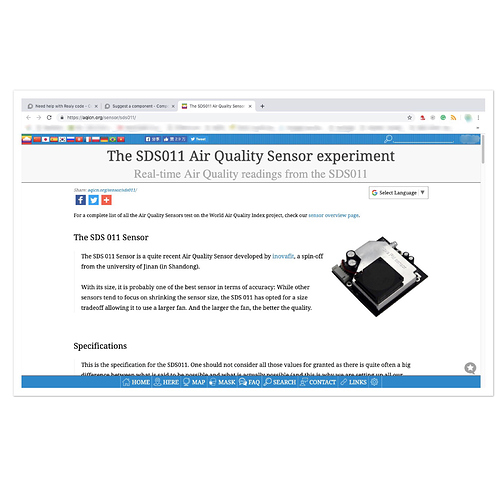 Do you have a GitHub account, by any chance? If you do, then why not add it yourself! Go onto circuito.io, scroll down to Create & Edit components(if you want a shortcut then why not click Controllers and scroll down the short list.), accept the heads up then you'll be transported to GidPod to add your components!
I'm a beginner may be you can be of help
Hello, could you please consider adding ZMPT101B componet?
Thanks in advance
Hi Aldo! Thank you for your message! I'm sure somebody will post it…
L298P Shield R3 DC Motor Driver Module 2A H-Bridge 2 way For Arduino UNO
Could you also add MLX90365 Triaxis Position sensor?
It would be great to have some Melexis sensors in component list.
I need them for my Thesis

hola, podrían poner estos elementos por favor uwu
Cnc Shield Arduino Nano V4 Ruteadora Maquina Corte Drv8825
Módulo Shield Pca9685 Pwm 12bit Driver I2c Controla 16 Servo
Nema 17 Motor Bipolar 83.6oz.in 40ncm Impresora 3d W01
modulo bluetooth hc-06
hi. i really hope you can add some Electrical conductivity sensor, pH sensor in circuit.io thank you:grin:
please add DTMF decoder in circuito io.
Ooh the micro:bit - it's such a tiny board!
EDIT: You can buy the micro:bit on Adafruit here:
Hi Niel
If you've looking for programming resources for the micro:bit (uBit), these links might be helpful:
Hope that helps